This coming Monday, February 2nd, I will be presenting on affiliate marketing at Cornell for the Dyson Business Inclusion and Diversity Program. The title of the presentation is "Affiliate Marketing Concepts & Careers", and the goal is to familiarize undergrads with the world of retail-based affiliate programs.
I have been laser focused in cost per sale affiliate programs for over a decade, and I have experienced every perspective: publisher, merchant and network owner. To me these are no-brainer concepts, but many college students (even communications or marketing majors) are not familiar with performance marketing.
This event will take place on Cornell's campus: Warren Hall 401 on Monday, February 2nd 4:30pm. Presentation available at Slideshare or PDF on GaryMarcoccia.com.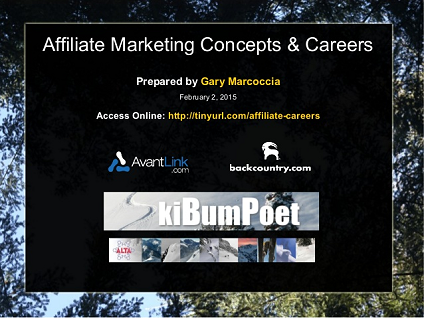 "Begin where you are and such as you are, without aiming mainly to become of more worth, and with kindness aforethought, go about doing good." - Henry David Thoreau
This holiday season it was time to part ways with AvantLink, a company I co-founded and helped to build for over nine years. It is hard to move on from this chapter in life, but I am very grateful for the opportunity. I have evolved from a naive ski bum entrepreneur worried about the next powder fix, to a proud and determined, business-savvy family man.
Transitions in life are hard. Change is uncomfortable, but it's inevitable and must be embraced. As sophisticated as the software had become (and will become), it all boils down to people. When I look back on helping to build a technology company, what I appreciate most are the relationships, time spent mentoring and helping to make complex applications easier for others to understand.
Onward with kindness aforethought,