Does my affiliate program have a good brand? Web retailers engaged in performance marketing...this is a crucial question to ask yourself. In fact any advertiser serious about affiliate marketing needs to be asking this question. Without a good program brand you are (or will be) fighting an uphill battle to retain the loyalty of top publishers, which means acquiring new customers and increasing sales will be difficult.
On the other hand, with a strong program brand, the needle moves quicker and in a more responsible way. Reaching milestones becomes easier. Having an effective program brand is your most powerful recruiting tool. The better your program is positioned as the authority in your category, the easier it is to attract influential top publishers.
It's counterproductive to spend time and effort recruiting new publishers unless you first establish a strong affiliate program brand.
How is that accomplished? First, be sure your store converts. Do everything right on your end so that when a publisher sends you a customer, you convert that referral to a sale. Some networks report advertiser conversion rates, and the lower yours is, the more likely top publishers will move on to competitors. Publishers are savvy and it's just smart business to maximize earnings on every click.
Next, have a dedicated and experienced program manager. Your program manager should be a communications specialist that has the ability to build and maintain relationships over time. They should be responsive, patient, transparent, communicate clearly and support your publishers to the highest degree. It should be a no-brainier for publishers to send traffic your way, instead of to another store. Your program manager can influence that decision by following fundamental principles of affiliate program management.
In general good program managers advocate for the well-being and success of their publishers. If they succeed, so does the manager and the store. Specific characteristics of good program managers include, but are not limited to,
someone who communicates clearly & regularly (program wide & one-to-one).
someone who engages publishers for feedback on a regular basis.
someone who is a good merchandiser & product level marketer.
someone who is a good advertising copywriter.
someone who effectively manages campaigns & timely promotions.
someone who enjoys relationship building.
Building a strong, authoritative program brand is not difficult but it is a process. So find a good program manager, pay them what they're worth, and be patient. Measure results over months and years, not days and weeks. Unfortunately many well-known, nationally, and even internationally recognized web retailers do not support their programs, thus they fail to build a strong program brand. Programs on "auto-pilot" lead to liabilities, a bad return on the effort and an overall resentment of the channel (and our industry).
When considering your affiliate program's brand, realize this is a distinct and separate brand from your eCommerce store. Your customers know and respect your primary store brand, but your publishers should know another.
So it's worth repeating: The cultivation of a strong affiliate program brand is your best recruiting tool. When you step to the front of the pack in terms of understanding the value of publishers, and supporting their efforts, you win. It's really that simple.
This article was originally published at LinkedIn Pulse.
This coming Monday, February 2nd, I will be presenting on affiliate marketing at Cornell for the Dyson Business Inclusion and Diversity Program. The title of the presentation is "Affiliate Marketing Concepts & Careers", and the goal is to familiarize undergrads with the world of retail-based affiliate programs.
I have been laser focused in cost per sale affiliate programs for over a decade, and I have experienced every perspective: publisher, merchant and network owner. To me these are no-brainer concepts, but many college students (even communications or marketing majors) are not familiar with performance marketing.
This event will take place on Cornell's campus: Warren Hall 401 on Monday, February 2nd 4:30pm. Presentation available at Slideshare or PDF on GaryMarcoccia.com.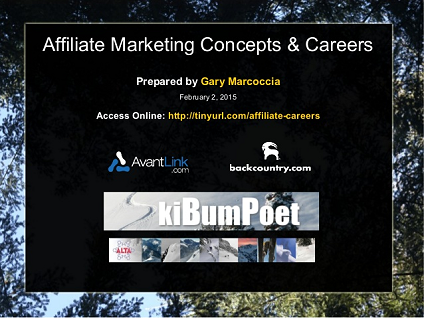 "Begin where you are and such as you are, without aiming mainly to become of more worth, and with kindness aforethought, go about doing good." - Henry David Thoreau
This holiday season it was time to part ways with AvantLink, a company I co-founded and helped to build for over nine years. It is hard to move on from this chapter in life, but I am very grateful for the opportunity. I have evolved from a naive ski bum entrepreneur worried about the next powder fix, to a proud and determined, business-savvy family man.
Transitions in life are hard. Change is uncomfortable, but it's inevitable and must be embraced. As sophisticated as the software had become (and will become), it all boils down to people. When I look back on helping to build a technology company, what I appreciate most are the relationships, time spent mentoring and helping to make complex applications easier for others to understand.
Onward with kindness aforethought,
And it hurts my GeekArm to hold one to my ear. For the most part they are a silly and outdated tool, especially for those of us who spend our time doing web marketing stuff all day. There are two reasons why I prefer email over phones with my day-to-day work @AvantLink, and they are basically the same thing.
Self-documentation. With a phone call you spend the first ten minutes on small talk, and then by the time it's wrapped up thirty minutes or more have passed. Then (and here's the best part), ten minutes later you can't remember details or a course of action from the call!
Correspondence history. You can't just say you did something or lie over a digital conversation. Trust me, there are plenty of opportunities in this business to forward a previous correspondence to corroborate your side of a dispute or disagreement.