Does my affiliate program have a good brand? Web retailers engaged in performance marketing...this is a crucial question to ask yourself. In fact any advertiser serious about affiliate marketing needs to be asking this question. Without a good program brand you are (or will be) fighting an uphill battle to retain the loyalty of top publishers, which means acquiring new customers and increasing sales will be difficult.
On the other hand, with a strong program brand, the needle moves quicker and in a more responsible way. Reaching milestones becomes easier. Having an effective program brand is your most powerful recruiting tool. The better your program is positioned as the authority in your category, the easier it is to attract influential top publishers.
It's counterproductive to spend time and effort recruiting new publishers unless you first establish a strong affiliate program brand.
How is that accomplished? First, be sure your store converts. Do everything right on your end so that when a publisher sends you a customer, you convert that referral to a sale. Some networks report advertiser conversion rates, and the lower yours is, the more likely top publishers will move on to competitors. Publishers are savvy and it's just smart business to maximize earnings on every click.
Next, have a dedicated and experienced program manager. Your program manager should be a communications specialist that has the ability to build and maintain relationships over time. They should be responsive, patient, transparent, communicate clearly and support your publishers to the highest degree. It should be a no-brainier for publishers to send traffic your way, instead of to another store. Your program manager can influence that decision by following fundamental principles of affiliate program management.
In general good program managers advocate for the well-being and success of their publishers. If they succeed, so does the manager and the store. Specific characteristics of good program managers include, but are not limited to,
someone who communicates clearly & regularly (program wide & one-to-one).
someone who engages publishers for feedback on a regular basis.
someone who is a good merchandiser & product level marketer.
someone who is a good advertising copywriter.
someone who effectively manages campaigns & timely promotions.
someone who enjoys relationship building.
Building a strong, authoritative program brand is not difficult but it is a process. So find a good program manager, pay them what they're worth, and be patient. Measure results over months and years, not days and weeks. Unfortunately many well-known, nationally, and even internationally recognized web retailers do not support their programs, thus they fail to build a strong program brand. Programs on "auto-pilot" lead to liabilities, a bad return on the effort and an overall resentment of the channel (and our industry).
When considering your affiliate program's brand, realize this is a distinct and separate brand from your eCommerce store. Your customers know and respect your primary store brand, but your publishers should know another.
So it's worth repeating: The cultivation of a strong affiliate program brand is your best recruiting tool. When you step to the front of the pack in terms of understanding the value of publishers, and supporting their efforts, you win. It's really that simple.
This article was originally published at LinkedIn Pulse.
This coming Monday, February 2nd, I will be presenting on affiliate marketing at Cornell for the Dyson Business Inclusion and Diversity Program. The title of the presentation is "Affiliate Marketing Concepts & Careers", and the goal is to familiarize undergrads with the world of retail-based affiliate programs.
I have been laser focused in cost per sale affiliate programs for over a decade, and I have experienced every perspective: publisher, merchant and network owner. To me these are no-brainer concepts, but many college students (even communications or marketing majors) are not familiar with performance marketing.
This event will take place on Cornell's campus: Warren Hall 401 on Monday, February 2nd 4:30pm. Presentation available at Slideshare or PDF on GaryMarcoccia.com.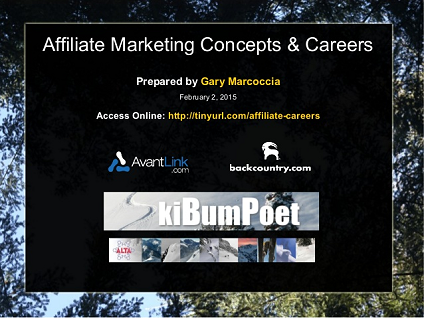 "Begin where you are and such as you are, without aiming mainly to become of more worth, and with kindness aforethought, go about doing good." - Henry David Thoreau
This holiday season it was time to part ways with AvantLink, a company I co-founded and helped to build for over nine years. It is hard to move on from this chapter in life, but I am very grateful for the opportunity. I have evolved from a naive ski bum entrepreneur worried about the next powder fix, to a proud and determined, business-savvy family man.
Transitions in life are hard. Change is uncomfortable, but it's inevitable and must be embraced. As sophisticated as the software had become (and will become), it all boils down to people. When I look back on helping to build a technology company, what I appreciate most are the relationships, time spent mentoring and helping to make complex applications easier for others to understand.
Onward with kindness aforethought,
I suppose I should get some thoughts down here. I posted an intro to Affiliate marketing video nearly a year to the day since the previous post before that. Terrific. It's pretty much the story of my life that although I try, well.....
So here I am, over a year later, with the motivation to outline how to create a niche Affiliate site from scratch using WordPress.
WordPress (Wikipedia, 5/31/11): "WordPress is an open source blog tool and publishing platform powered by PHP and MySQL. It's often customized into a Content Management System. It has many features including a plug-in architecture and a template system. WordPress is used by over 14% of the 1,000,000 biggest websites."
First Thing's First
Pick a topic. Make a firm choice in your area of expertise because you only get one. Let me say it another way: if you try and build content as an expert for ten different sites, with ten different topics, it will not work. Your time will be wasted and you will walk away defeated. I cannot emphasize this enough.
Decide on a domain name. You are better off with a short, brandable domain rather than a long-hyphenated-keyword-match.com domain. If you can get something short and unique with a .com that's perfect, but you can still get creative otherwise. For example you have probably seen people use actual domain extensions as part of the branding (think del.icio.us or shopsocial.ly).
Find a web host. There are plenty to choose from, and if you're just starting out all you'll need is a shared hosting platform...I use Hostican.com. Lucky for you the shared hosting providers are more similar than they are different, but you should still spend a bit of time looking around the web for consumer reviews of the different hosts.
WordPress & Configuration

The inherent nature of the WordPress CMS allows for easy categorization, tagging and archiving of your web content. Content can include anything from photographs, editorials and articles, to podcasts and videos. As Gary V says, "just make sure and put out good shit." Be authentic. Be yourself. Be the authority on your topic. Build your personal brand online. Whether you're a true authority or just a poser will come out clear as day in the content you put out.
Most shared web hosting platforms have one click installs of popular tools and scripts via admin interfaces like cpanel. If that's the case with your host (this might be something to find out before you choose on a host), installing WordPress literally takes seconds. If that's not the case don't sweat it because installing WordPress manually is not that difficult. Start here.
Once you have WordPress installed find a theme (or skin) that works for you. There are countless themes out there, but use this Free WordPress Themes database to search from. You can also find higher quality paid or custom themes, but to start out get a simple layout that's free. If you have some basic HTML or CSS skills than it's fairly easy to do some of your own customizations.
Now that you have a theme, tweak two important admin settings before you get started from within the WP panel: Permalinks & Privacy. More info on each below, including screen grabs.
Settings -> Permalinks
You can assign a custom permalink structure to the content you produce, and you should. Personally I think it's best to structure URLs to include the keywords you use in page or post titles, as well as categories. To do this simply go to "Settings" then "Permalinks" page, select "Custom Structure" then apply the following value to that field:
/%category%/%postname%/
This allows permalinks (or URLs) of the content you produce to include category and postname keywords. So for example if I posted a fact on GeekArm.com about how bad it is to try and build ten thin Affiliates sites at once, the title might be something like: Focus or Lose. With the custom permalink structure in place, the archived URL would include the category (Facts) and the post title (Focus or Lose): http://www.geekarm.com/facts/focus-or-lose/
Settings -> Privacy
If you're building a niche Affiliate site it's essential that you allow search engines to get in and index your content. There is a specific setting for allowing or disallowing this on the "Settings" then "Privacy" page. Real simple...just select "I would like my site to be visible to everyone, including search engines (like Google, Bing, Technorati) and archivers" and then click "Save Changes".
If you own high profile SERPs with good content, for competitive KWs/product searches in your niche, you will convert sales and earn commissions. Of course the trick is going to be to win those SERPs, so dig in and do it right. You will not succeed by gaming the search engines. Build something from your knowledge and passion that's sustainable.
Essential Plugins
There are a handful of plugins that you should download and activate right away (see arrows below in "WordPress Plugins List"). As you get more familiar with WordPress, and become more familiar with it's plugin capabilities, you will be able to easily add or delete others. There are lots to choose from and you can read reviews or view ratings before you download and activate them. In the dashboard sidebar of WordPress just click "Plugins" for access to your list of plugins.
Akismet should come with the install, and yes you should activate it right away. It effectively controls and filters comment spam that will become rampant once your site gains some traction. You'll first need to sign up for an API key, though, and there is a small monthly fee...no complaining, it's entirely worth it.
AvantLink WP is the most innovative Affiliate marketing plugin on the market. It is completely integrated within the AvantLink network, and it's free of charge for qualified Affiliates. With this plugin you can add a multi-merchant ProductSearch API module to your WordPress sidebar in minutes, and much more. Click here for more info and a list of screencast tutorials on AvantLink WP.
Others I recommend starting with include a video embed plugin of some sort (there are lots!), WP Super Cache and ShareThis (or a similar plugin that helps others share your content). Downloading and of course activating plugins can be done from within the WordPress admin panel by clicking "Plugins" then "Add New".
Final Thoughts
Remember it's not brain science to follow the guidelines above for WordPress. Your two main challenges will be to 1) focus your efforts, and 2) dig your heals in for the long haul. Do yourself a favor and focus on your area of knowledge or expertise with one web site and put out good content regularly. If you do this you will earn natural inbound links over time, which naturally builds site authority...preserving the integrity of your efforts to build a profitable, niche Affiliate site.
And it hurts my GeekArm to hold one to my ear. For the most part they are a silly and outdated tool, especially for those of us who spend our time doing web marketing stuff all day. There are two reasons why I prefer email over phones with my day-to-day work @AvantLink, and they are basically the same thing.
Self-documentation. With a phone call you spend the first ten minutes on small talk, and then by the time it's wrapped up thirty minutes or more have passed. Then (and here's the best part), ten minutes later you can't remember details or a course of action from the call!
Correspondence history. You can't just say you did something or lie over a digital conversation. Trust me, there are plenty of opportunities in this business to forward a previous correspondence to corroborate your side of a dispute or disagreement.
How's this for my first post @GeekArm? Sitting here in Las Vegas at Affiliate Summit, at the Rio, on Saturday, January 18th 2010 at 9:45pm. Although it was an eventful day of networking and seeing old friends...I'm always ready to leave after 48 hours.